It's April 2020, and like many other people around the world, I can only go out for essentials thanks to COVID-19.
I could be doing something as ordinary as getting the mail or doing the laundry, but I'm extra shook because many of us don't know if our neighbors (or hell even ourselves) have the virus and/or are asymptomatic.
6.6 million Americans (myself included) filed for unemployment the first week of the shelter in place order and are looking for the essentials like face masks, Tylenol and disinfectant, but are coming up short. We aren't sure when we're getting our unemployment checks, since so many people are filing for unemployment, and stores have physically run out of items that are needed.
If we find supplies online, some companies, like Amazon, are experiencing massive delays. Since many of this is out of our control, we're all doing our best with what we have and what we know how to do.
Right now, everyone in the world is encouraged to stay-at-home to stop COVID-19 from spreading. I'm fortunate enough to live with my mom, so I'm not alone. But it's also a little unfortunate because if I contract the virus, I may give it to her (or vice versa). This adds an extra layer of comfort and worry simultaneously.
One of the things my mom and I have been doing is practicing social distancing, even in the apartment. I don't think we've hugged since a little before New York mandated a shelter in place order for nonessential workers.
I haven't experienced physical touch since my last day of work. I ran into a guy I haven't seen in years and gave him a half-ass church hug. Y'all know what I'm talking about. Lol.
On top of that, I haven't had intercourse since September 2018 and oral sex since June/July 2019. So, with time to myself – not experiencing any outside physical touch – I'm starting to feel a lot of emotions I've suppressed. (Oh goody! *eye roll*)
Since I've been hella introspective lately, I'm starting to realize what my therapist has been trying to tell me for the past few months. I haven't confronted my sexual abuse as a child, nor have I fully faced my feelings about getting my fourth STI in 2019.
There's nowhere to go now (no work, no Dunkin Donuts [my friend's joke how that's my office] and no friend's house) to distract me from those very real feelings I've been avoiding. I've tried to reconcile with my emotions privately but I'm noticing part of my healing includes 1) sharing how I'm feeling so people know they aren't alone and 2) releasing what I've been bottling up to make room for other experiences.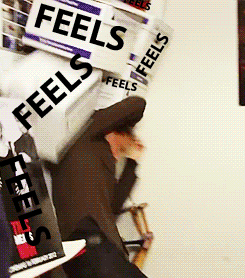 While this is all well and good, I can't front… I feel guilty. I feel guilty dealing with these things because I'm a relationship/sex writer and a certified coach. These are things I feel like I should've overcome but I'm merely in the beginning stages of healing.
During this global pandemic, some people are pushing hustle culture and I completely get that. But for me, I may have to do more healing so I can hustle in a way that works for me.
Now, I'm not sure how often I will post. But I can't emotionally afford to drop off the face of the earth when it comes to posting and stifle my feelings. Since many of us aren't able to be as social as we used to or experience physical touch, feel free to drop a comment below to let me know you're here with me. I could use the support.